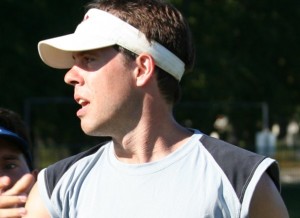 Player #8
Blue is the founder of the team, and been a player, captain and coach over the history of Zen.
He is semi-retired from playing now but still enjoys sharing stories and passing on what limited wisdom he's gained.
The people he has met over the years through his association with Zen are one of the best things that ever happened to him.
Hello My Name Is (Open – 2004)
Too Bad (Open – 2005)
Karma (Open – CUC 2009)
Karma (Mixed – TiV and others)
MMV (Mixed – 2003)
Zen (Mixed – 2004-2007, 2009-2010)
Bad Daddy Ultimate (Masters – 2012)
United Arab Emirates National Team (2011 World Beach Ultimate Championships)
Canadian National Team (2015 World Beach Ultimate Championships)
So many years and so many different rosters filled with players and friends for me. One of my favourite moments came from a time when I wasn't even on the team. Sitting anonymously in a Starbucks on spring, I overheard two young players whom I didn't know talking about which teams they were trying out for. One of them said "Ya, I think I'd like to make Zen. It always seems like the people on it have a good time." I think that made my day.
If it isn't fun, don't do it.
Zen Teams
[fbalbum url="https://www.facebook.com/media/set/?set=a.198515633528794.53318.198511560195868&type=1&l=b2545a5c15"]