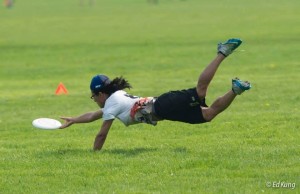 Player #87
David was born in subtropical south-east China but grew up snow-bound in Winnipeg (Go Jets Go!). Having exhausted his 5-years of university eligibility winning CUUC bronze twice with Tula, he's excited to get back into Club ultimate. He was a rookie on Zen last year and enjoyed it immensely.
ROY (Open – 2008)
Torontula (Open University – 2009-2014)
Fresh (Mixed – 2012)
Zen (Mixed – 2014)
Nonsuch (Mixed – CUC 2014)
Ummmm…. Hill sprints at Riverdale?!?
Just kidding.
Lots of great moments last season but It's really a toss-up between Brom's horse head mask at Regionals and the entire Lake Rousseau weekend. Expecting more in the coming year!
Get out and coach high school/junior ultimate. It's a fantastic volunteer gig and really helps to grow our sport.
Zen Teams
[fbalbum url="https://www.facebook.com/media/set/?set=a.198515633528794.53318.198511560195868&type=1&l=b2545a5c15"]