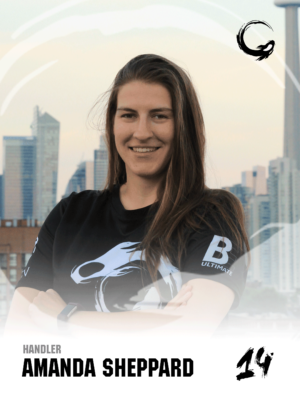 Player #14
Despite being injured most of the season, Shep has shown her dedication by being at every tournament, practice, and event she can – sidelining like a champ.  She keeps the enthusiasm up and makes sure the people on the field get the support they need.  When she is able to play she is still one of the most dedicated off the field, making time for extra practice or fitness in the backlines, while still playing 4 days a week.  When she wants to learn something she will buckle down and force her way through, if necessary.  Her only weakness is the tendency towards injury that comes from trying so darn hard.
Number: 14

Is there significance behind your number?
There may have been when I picked it in high school, but I don't remember it. But I'll fight you for it now!
Position:
Handler
What do you bring to the team?
My natural volume of voice is the same decibel as most people's yell. It's great for sidelining. Sometimes I also do things on the field too…
Previous Experience:
Tox6ix (Women – 2016)
Zen (Mixed – 2015)
Lily
Paperbag (Queen's varsity women's team)
Current Team(s):
Friendship, Frites
Nickname(s):
Shep
Do you have a go-to pre/post game meal?
Pregame coffee.
Do you have a pre/post game ritual or any other superstitions?
Coffee
Least Favourite/ Favourite Fitness:
The running ones…
What is your favourite TUC League/ Team to play on? Why?
TPL, cuz who doesn't like real life fantasy!?!
Favourite Zen Tagline
#prius
What teammate do you admire and why?
Trav, because the man just does not get down (on himself or anyone else).
Zen Teams
[fbalbum url="https://www.facebook.com/media/set/?set=a.198515633528794.53318.198511560195868&type=1&l=b2545a5c15"]