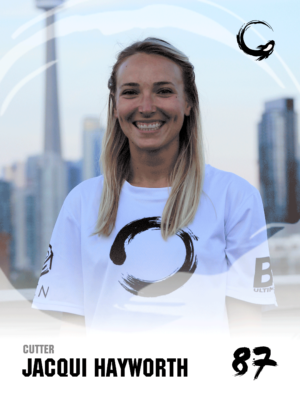 Player #87
Deep into a tournament Jacqui is dominating because of her spectacular endurance. She is a deep striker and a committed member of the team. She has instincts and determination that will propel her into high-level play because she is always aspiring to elevate her game. Contributing both on and off the field she is an invaluable asset.

What Jacqui's teammates say:
Jacqui is always playing at a 100%, aspiring to leave each game a better player. With her great field intuition and high defensive IQ she lures her marks into false comfort only to add another run-through D to her stats. #notopen It is often followed by a strike to the endzone for the goal. #bookends
Off the field, the team physician (Dr. Jacqui) is making calls to ensure we're not sleeping on the streets at tournaments ("Hey! Don't sleep on the streets!") and yelling at us to put on sunscreen so that we don't get melanoma ("Melanoma waits for no one!"). In lieu of smiles of her own, she provides the snack that smiles back ("Eat these and enjoy them!!").
"I don't have cancer because of Jacqui."
"We call her Sunshine because of her glowing personality."
#sidelinepolice #oneof2teamdoctors #physician

Number: 87
Is there significance behind your number?
It's my birth year (god I'm old).
Position:
D-line Cutter
What do you bring to the team?
Snacks & Sarcasm
Previous Experience:
MMV 2016, Tula 2016
Current Team(s):
Wedding Party (Party in Room 906 franchise)
Nickname(s):
J, Jax, Jayqwellin, Sunshine
Do you have a go-to pre/post game meal?
Breakfast sandwich and a latte.
Least Favourite/ Favourite Fitness:
Fav: tuck jump jump squats, Least: v sit ups.
Favourite Pump-up Song:
X gon' give it to ya
What is your favourite TUC League/ Team to play on?
Party in Room 906.
Favourite Zen Tagline
#melanomawaitsfornoone 
What teammate do you admire and why?
Granny. Her skills, game knowledge and athleticism are motivating and invaluable.
Is there any specific moment/ drill/ game that you consider a highlight of the season so far?
Every run-through D!
Zen Teams
[fbalbum url="https://www.facebook.com/media/set/?set=a.198515633528794.53318.198511560195868&type=1&l=b2545a5c15"]