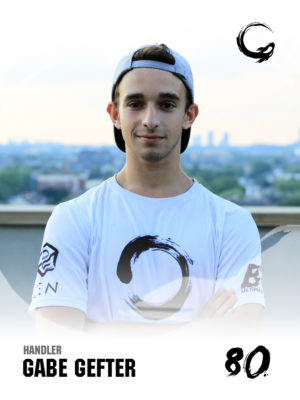 Player #80
Gabe is passion. He always wants to get better and takes every opportunity to do so. Gabe exudes confidence when throwing, executing handler strikes and breaking his mark. He is loud and knows how to command a play. On defense he is focused and active on his mark, always giving 100% and never letting his match-up rest. No matter the situation, Gabe will give you his best effort in attempt to win. Look out for this youngin' folks!
Number: 80
Position:
D-line Handler
What do you bring to the team?
Field vision, perspective and grittiness on D.
Previous Experience:
McGill Ultimate Team
Current Team(s):
McGill
Do you have a pre/post game ritual or any other superstitions?
I listen to EDM to pump myself up
Least Favourite/ Favourite Fitness:
I like mountain climbers!!!
Favourite Pump-up Song:
El Mariachi – Bassjackers
Favourite Zen Tagline
Who's tall? Twilight
What teammate do you admire and why?
Mason – for his calm handling and aggressive D.
Zen Teams
[fbalbum url="https://www.facebook.com/media/set/?set=a.198515633528794.53318.198511560195868&type=1&l=b2545a5c15"]