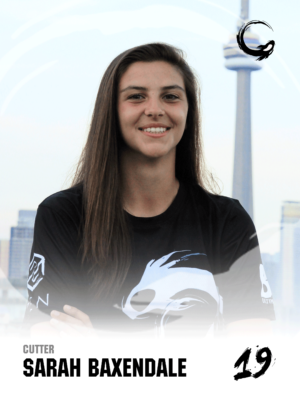 Player #19
As an athlete Bax is ready to go whenever you call her on the line. She plays with the heart of an entire team. With her gritty style and knee sliding layouts she is a defensive force to be reckoned with. She knows how to balance playing disciplined ultimate with her affinity for and taking chances, like those hucks she rips!
Number: 19
Is there significance behind your number?
Was my hockey number (Steve Yzerman's number).
Position:
Cutter
What do you bring to the team?
Always playing hard and gritty no matter what.  
Previous Experience:
Carleton Ravens Ultimate (past two years). Hopefully at UBC next year.
Nickname(s):
Bax
Do you have a go-to pre/post game meal?
Fruit and granola bars.
Do you have a pre/post game ritual or any other superstitions?
Listening to music pre game.
Least Favourite/ Favourite Fitness:
Fitness drills are always fun!!
Favourite Pump-up Song:
This Is How We Roll – FGL
What is your favourite TUC League/ Team to play on? Why?
Only ever played for Zen…
Favourite Zen Tagline
#leavenodoubt
What teammate do you admire and why?
Hugo – Always calm and collected but kills it every time he's on, both O and D. (And I want to learn to make my layout D's as sick as his…)
Zen Teams
[fbalbum url="https://www.facebook.com/media/set/?set=a.198515633528794.53318.198511560195868&type=1&l=b2545a5c15"]