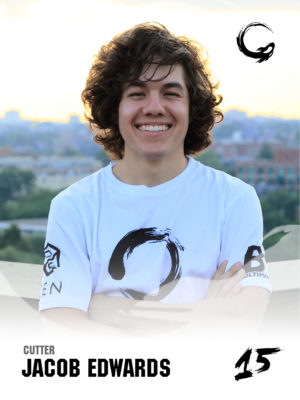 Player #15
Jacob (aka Twilight) may not be the tallest on Zen but he'll still sky you in the end-zone for that point or charge you down for the d. His contagious smile and energy are an asset both on the sideline and the field along with his flowing, werewolf inspired locks. He's a double threat as a reliable cutter and back up handler who isn't afraid to put it deep.
People Talking:
Twilight dances to the beat of his own drum. He literally puts on his massive headphones and gets in the zone. It works for him though because he's often coming down with the disc against players twice his size. Maybe it's from all the miles he is logging at Uber Eats or perhaps all that elite level dodgeball he plays at York. Whatever it is, it's placed him in the running for top layout contender of the season. Teammates can rely on this guy to get the disc, even if that means chasing down a full field hail mary and laying out in the endzone. #winwithourlegs #teamtwilight #teamdavid&goliath
"I heard at least 1 in 100 people would recognize him as a dodgeball superstar on the York campus."
Number: 15

Is there significance behind your number?
Enjoys multiples of 5.
Position:
Cutter, learning hybrid.
What do you bring to the team?
Greatest strength is defensive positioning. Decent sky's for a little guy.
Previous Experience:
Uproar 2015. All of high school.
Current Team(s):
Lucky Huckers
Nickname(s):
Twilight
Do you have a pre/post game ritual or any other superstitions?
Listening to the black keys.
Least Favourite/ Favourite Fitness:
BRING SALLY UP
Favourite Pump-up Song:
Cant stop by chilli peppers.
If there is anything else you would like the world to know?
Disc is love, disc is life❤
What teammate do you admire and why?
Mason's speed and ability to break down zone with excellent handler movement.
Is there any specific moment/ drill/ game that you consider a highlight of the season so far?
Going to universe with Union and getting a big sky outta it.
Zen Teams
[fbalbum url="https://www.facebook.com/media/set/?set=a.198515633528794.53318.198511560195868&type=1&l=b2545a5c15"]