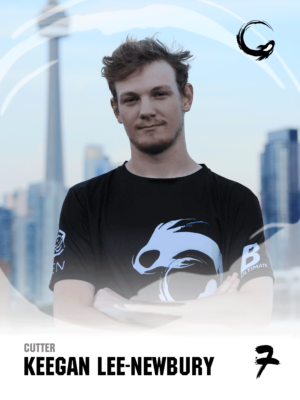 Player #7

Keegan is a force of unimaginable height and skill. He has a passion for the game and holds himself accountable on and off the field. He is infectiously funny and welcoming to all despite his quiet exterior. He is always ready to make a quick chirp!
What Keegan's teammates say:
Keegan knows how to get himself dialed in for games, and that intensity and focus really gets his line fired up. You know he's going to attack the disc and bail you out on a tight play. At practice, he's the guy helping set up drills and giving valuable tips to teammates on the sideline.
Keegan is also a uniting force off the field, helping bring the team together (who wouldn't want to see him put on a frozen t-shirt). His light sense of humour and ability to laugh at himself makes him the guy you still want to chill with after a 10 hour practice weekend, especially if it's over a delicious home brew!
#doyouguyswatchrickandmorty #longhashtagsarehardtoread
Number: 7

Is there significance behind your number?
My two first choices were taken but I wore 7 for 3 years of competitive basketball.
Position:
Cutter
What do you bring to the team?
Skying people, playing hard D, laying out.
Previous Experience:
Uproar 2015, Toro 2016, York University Pride
Current Team(s):
Slam Dunks – TUC Monday Competitive
A Milne Family BBQ – TUC Wednesday Competitive
Do you have a go-to pre/post game meal?
Not really just eat lots of carbs all the time.

Do you have a pre/post game ritual or any other superstitions?
Listening to my pump up music.
Least Favourite/ Favourite Fitness:
Favourite – anything with running.
Least – the rest of it.
Favourite Pump-up Song:
Any of the Eminem classics – Lose Yourself, Till I Collapse, Not Afraid.
What is your favourite TUC League/ Team to play on? Why?
TPL because its super fun and Ed is always there to take a picture of me doing something cool.
Favourite Zen Tagline
Leave. No. Doubt.

What teammate do you admire and why?
Quinn Smith because he makes me look less skinny.
Is there any specific moment/ drill/ game that you consider a highlight of the season so far?
Taking Union to universe.
Zen Teams
[fbalbum url="https://www.facebook.com/media/set/?set=a.198515633528794.53318.198511560195868&type=1&l=b2545a5c15"]