About Zen Utimate
Zen has been in existence since the start of the 2004 touring season.  It has been a long running mainstay of the Ultimate Experience Club System in Toronto in the Mixed Division.  The goal for Zen is to be a regionally competitive team whose focus is on preparing players to compete at the top tier levels of touring through coaching, training and competition, while still providing a fun and positive overall experience.
A Brief History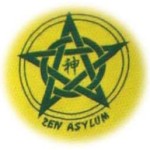 In the beginning, Zen was called Zen Asylum. The name grew out of a conversation in which, frustrated with the back and forth discussion of the team name, Blue declared that he wanted the name to reflect a zen-like purpose but the current discussing left him feeling crazy and like he should be in the insane asylum. Only tired and slurring his words, it came out as 'in ze in-zen asylum'. Being 'in zen asylum' became the goal for many people in the years to come though thankfully future leaders had the foresight to shorten the team name to simply 'Zen'.
In 2005, with a new image Zen began to compete in the Ontario Regional qualifier which is part of Ultimate Canada's (previously CUPA's) Summer Series, which leads to the national competition, the Canadian Ultimate Championships (CUC).

In 2006, Zen qualified as the 3rd ranked team out of Ontario, and would go on to finish 2nd of the Ontario teams, and 7th overall at CUC in Halifax that year.
The next several years saw Zen be a perennial contender in Ontario, with several tournament wins and a growing reputation as a team that could not be taken lightly and would always fight through until the end. Though they continued to compete at Ontario Regionals, they would often place just one spot out of contention for a berth to nationals making them the ongoing underdog story.  This was especially impressive in the face of both an increased number of teams competing as ultimate continued to grow as a sport, as well as rival club systems in Toronto.   Zen was the only 2nd tier club system team which continued to rival the top teams from many other cities on a regular basis, and dominated the regional level.

2010 brought about another rebranding of the team to the current logo and zen-monk styled jerseys.
In 2011, Zen would return to CUC in Ottawa, beating rival Ultimate Experience members Bytown Flatball Club in pool play before losing a heartbreaking universe point game to Spawn putting them out of top 8 contention. Zen would ultimately finish the tourney 13th overall.
2017 saw Union make closer ties with Zen, co-locating practices and drawing up players to go to non-essential tournaments to gain next tier experience. The additional mentor-ship paid-off and Zen returned to Nationals for a third time – one of the only 2nd tier Mixed club teams to ever do so. This Nationals trend would continue into 2018 when Zen qualified once again and headed to Surrey, British Columbia.
Want to read past season summaries? You can read the final summary for each season below.
Season Summaries
2006: Nationals Here We Come
2007: Rebuilding with Competition
2008: New Leadership
2009: Promising Beginnings
2012: Fresh Faces
2013: The Big Ten
2014: The Wanger Era Begins
2015: Dirty Dozen
2016: Lucky Thirteen
2017: Nationals Three-peat
Our Club System