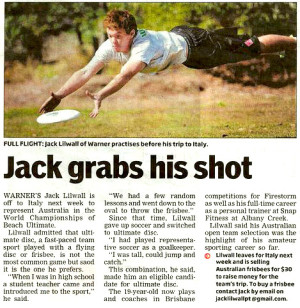 Jack brought a wealth of knowledge as a certified Ultimate Disc Level 1 Coach (WFDF), as well as his experience from Australia.
BMSF (Open U19  – 2008, 2009, Queensland)
Delirium (Mixed – 2009, Brisbane Australian Mixed Nationals)
Ultimate Evolution (Mixed – 2010 Adelaide, Australian Mixed Nationals)
Umlaut (Team Australia) (Open – 2011, New Zealand Ultimate Championships)
Thunder (Team Australia) (Open U19 – 2010, World Junior Ultimate Championships)
Firestorm (2009, 2010, 2011 (C), 2012, Australian Ultimate Championships)
Saltwater Crocs (Open – 2011, World Championships of Beach Ultimate)
Prodigy (Mixed – 2012)
Zen (Mixed – 2013 Coach)
My favorite Zen moment was watching their domination of Quick n' Dirty in the 2013 Summer Experience Tournament. It was an anticipated match up that was said could go either way and there was plenty of smack talk pre-game. Zen played how they practiced, kept their heads cool and plays clinical to pull away with a clean performance and the 15-5 win.
There's no greater satisfaction as a coach to see your lessons being demonstrated in a clinic by your team for the opposition!
Off the field it would be the time I spent getting to know them in Montreal travelling with them and hanging out at the 2012 Comedy of Errors. Many Zen players came to watch my games with Prodigy and became our cheering squad. We became theirs for the tournament.
Come into the season ready. Do your conditioning, have a base level of fitness and clear yourself of any injuries. It will do a world of good for you coming into tryouts with fitness, and you will get so much more out of your training. You will get to play with and against the best, remember to be open minded to learn their tricks. Bring your competitive drive, but don't let it trump your spirit!

Touring is a sweet experience that will push you, be prepared to push back!
Zen Teams
[fbalbum url="https://www.facebook.com/media/set/?set=a.198515633528794.53318.198511560195868&type=1&l=b2545a5c15"]