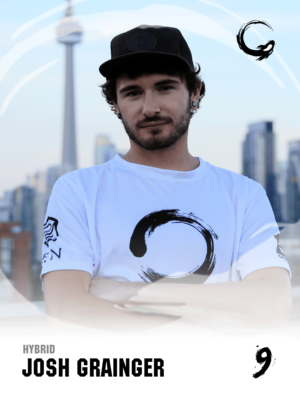 Player #9
Grainger danger! A machine on both of Zen's offensive and defensive units. A highly versatile hybrid that excels in the handler, initiator and deep strike positions. When we need a reliable player that can adapt to any role Grainger is our option!
What Grainger's teammates say:
Grainger is a goddamned powerhouse. With his James Franco-esque good looks and oddly fashionable thigh-high cleats, Josh tears through zones as an offender, skies all opposition as a defender, and is a primary contender…for our hearts. On top of all his enviable physical talent in the game Josh also has a great mental game and constructive attitude that makes him a teammate you always want to have on the field with you. A strong, well rounded player with no discernable weaknesses, Grainger is much like an Achilles that plays Ultimate…that doesn't have that weird ankle thing… unless that's what the tall cleats are for.
Additionally, Josh is a conduit to his wonderful wife, Atziri, whom the team has had the great pleasure of getting to know throughout the season. We are all looking forward to when Atziri gives in and steps on the field herself!
"Save some stats for the rest of us Grainger!"
"Grainger danger!! … why isn't this catching on?"
#proposaloftheyear
Number: 9

Is there significance behind your number?
10 was taken and 9 is the wife's favourite number.
Position:
Hybrid.
What do you bring to the team?
Speed, endurance. Good pulls, active sidelining. Versatile.
Previous Experience:
Ryerson Rams 2015-2016
Rising Tide 2015
Backdraft 2016
Current Team(s):
HM01
Nickname(s):
Grainger?
Do you have a go-to pre/post game meal?
Post game: Burger and Sweet Potato Fries.
Do you have a pre/post game ritual or any other superstitions?
Visualize my big plays throughout the years.
Least Favourite/ Favourite Fitness:
Least Favourite: Pyramid Sprints -really hard to push through it but felt super accomplished afterwards.
Favourite Pump-up Song:
Blue Orchid- The White Stripes
What is your favourite TUC League/ Team to play on? Why?
HM01 – because I assembled it and we always eat good food. Competitive yet social.
Favourite Zen Tagline
#LeaveNoDoubt!

What teammate do you admire and why?
Gabe – his ultimate IQ is extremely impressive and he has helped me improve my personal game several times throughout the season. He has a bright future in Ultimate.
Is there any specific moment/ drill/ game that you consider a highlight of the season so far?
Game: Taking Union universe at regionals.
Moment: Shredding Union's Zone Defence and scoring on them. Built my confidence as a developing handler.
Zen Teams
[fbalbum url="https://www.facebook.com/media/set/?set=a.198515633528794.53318.198511560195868&type=1&l=b2545a5c15"]